Yoga Journey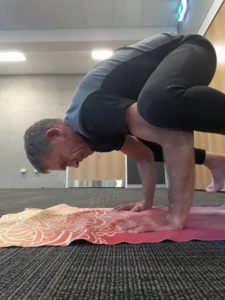 Yoga Journey Over the past 4 years, I have been slowly developing my Yoga practice. Being 56 I am not over the hill and yoga has given me a new lease on life. My objective has been to assist with reducing daily/life stress levels and increase my wellbeing.  The mindset and the collaboration with my yoga teachers and fellow students have helped me in developing my mind body and soul balance as a person.  I have attended sessions with different teachers and styles and appreciated the techniques learned. In my practice I have come to acknowledge that my connection with the perfect yoga session is as follows:
Phase 1 the Yoga Nidra
At workshops, I have to acknowledge Nikki Fitzgerald and Ruth Cole (Scientist Nelson) for explaining the nature of Yoga Nidra and leading me thru a 1.5 hour guided practice. It allowed me to fully appreciate the meditative state that this phase can bring. The reality is a 1-hour session is that this phase can only exist for a 5 minute period. I have to acknowledge Layla Dowthwaite (HR consultant Greymouth) as being highly skilled at getting the meditative state of the Nidra in a short time. Explanation of the breathing technique is great. This phase is also assisted by the chant of Om the tying in of oneness with the group and Dr. Jamie Mosher (Surgeon Greymouth) is particularly skilled at leading this. Setting the intention during this phase is a powerful aspect! This part of my Yoga Journey is important!
Phase 2 The Vinyasa Flow
The King if the flow has to be acknowledged as Chai Deva at Evolve Studio in Nelson as well as managing the Evolve festival he does a wicked Vinyasa flow. I have to also acknowledge his staff Kelly Gill-Brydon as equally skilled. The flow has to flow! On a local front, Hot Flow Yoga in Wellington and Christchurch are good with this too! A special mention of the use of modern and classical asanas in the flow has to go to Hannah Green of Wild Peace Wellness Centre in Westport. Locally Naomi Robbins, Layla Dowthwaite, Jamie Mosher all have great technique with a variance of asanas dependent on who is in the class!
Phase 3 The Pinnacle
Yeah, I know no one calls it that… that's the part with the balance pose or the core strength pose…. One of my teachers does this all thru out his class! I like the idea of the achievable not so much human origami but something simple graceful and restorative as well as being challenging!3
Phase 4 the Warm Down
Slowly going down all the muscle groups with the final stretches is a must with this old fella. All have their own technique and this does not need to be overlooked or rushed.
Phase 5 Shavasana
Although it looks easy, Savasana (Corpse Pose) has been called the most difficult of the asanas. Indeed, many yoga students who can happily balance, bend, and twist through the rest of class struggle with just lying on the floor. The reason is that the art of relaxation is harder than it looks. It doesn't happen on demand: You can't just say, "OK, I'm going to relax, right now! That's why Savasana is such a gift. The pose sets up the conditions that allow you to gradually enter a truly relaxed state, one that is deeply refreshing in itself and that also can serve as a starting point for meditation. The other night Hannah Green slowly pushed down on my shoulders and quietly massaged my forehead. Kelly Gill-Brydon placed a scented bean bag over my eyes. Naomi Robbins massaged my shoulders. Maya, Jamie Moshers' daughter massaged the shoulders and talked of clouds. I am not too macho to say that these acts of kindness bring tears to my eyes and I am grateful and certainly are some of the most restorative acts in Yoga.
Phase 6 The Final Meditation
This brings it all together on my Yoga Journey and for my reviews what I have achieved in my restorative practice. It also makes me feel at one with the group on certain occasions. Particular techniques are the sealing of the intent in phase 1 and chants such as the 3 oms and mantra chants bringing me back to the peace of the world such as Shanti Shanti Shanti.
I have had some extra fun sessions with Yoga. Two which stand out are:
Gemma leads the class in a graceful vinyasa flow while her partner Paul plays his guitar singing. The flow perfectly matches the melodies and sound. Just the love that they have for each other that flows from the class is worth the experience!
Human Mandala Yoga Jo leads the class in a circle all supported with each other this leads to reinforcement of trust and ability. You have to experience it!
It is not surprising given Yogas benefits that the teachers above are very intelligent and talented. My fellow students have come from all walks of life and reflect the practice of yoga bestowed by these leaders.
Andrew
One Half of the Anywhere Business Network