How can we help you?
Contact us today to take a step closer to making your dreams a reality. Whether you want to work for someone else or for yourself you need to understand how to use the digital world. Job seekers are applying for work online and promoting themselves in this environment too. Others are using online platforms such as Instagram and Facebook to demonstrate their talents. No matter how you want to work, where you want to work and who you want to work for we all want to ultimately make a contribution and feel relevant.
There is no doubt that the way businesses employ and attract talent has changed. For example more people are considering working longer because they are healthier than previous generations. The talent pool of workers is different, more diverse. Many are choosing to work shorter hours, on fixed terms or more flexibly. Talent is being required and offered less traditionally. Instead of job titles that explain a defined notion of what you do, they are expressing what you are capable of.
If you are going to change with the changing nature of work you will need to understand the digital world, how to do a business plan and how to market yourself. Maybe you are ready for a change. When you are ready to take a step forward to better understand the digital age then join us in the Digital Experts Academy. You can try it for free for 30 days because we know its not always an easy decision to commit your time and money to new things.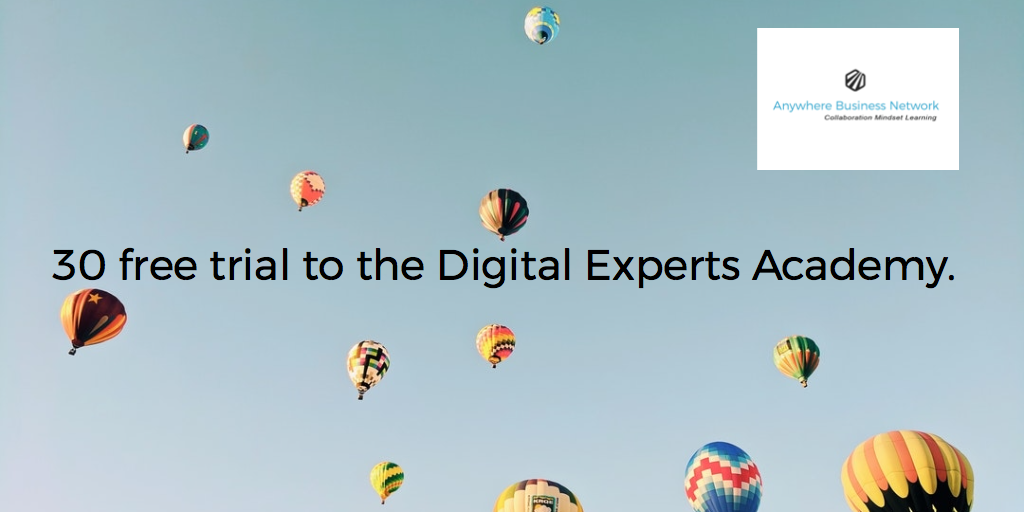 Check it out now here- 30 days free trial at the Digital Experts Academy.
Other ways we can help you
Sign up to our MONTHLY NEWSLETTER giving you lots of information about how to run a business successfully.  You will need to confirm your subscription request. This may go to your spam folder so be sure to check it.
(Subject to our privacy policy -http://anywherebusinessnetwork.co.nz/about-us/privacy-policy/)
Get a FREE PERSONAL GOAL SETTING TOOL to help you set personal goals for a successful future.
Get FREE BUSINESS PLANNING TOOL helping your understand what needs to be in a business plan.
FOLLOW US as we BLOG about topics related to working in this digital age. From the future of work, setting up a business at home to tips for staying inspired.
Work one on one with us to get BUSINESS COACHING. Andrew is a business coach and will help you plan and set up a business to give you the best start.
Work one on one with us to get a DIGITAL KICKSTART with your learning. This training is done in 1 hour bits and will give you the fundamental knowledge of getting known with social media.