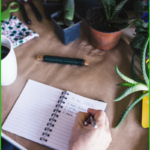 Many who work from home have other income coming into the household from a partner so the amount of money generated is not always important. If it is your sole income for example you may feel more pressure about this.
It is still important no matter how much you are making to work efficiently. This will give you a sense of achievement and purpose. Without goals you may spend more hours than you need to working on your business and achieving very little.
There is a tendency to feel like you can never get away from work when you work from home because it's always there. There's always one more thing to do. Today I want to talk about goals.
Goals
If you haven't sat down and written down the goals you have for your business, then you need to do that now. When you are selling anything it seems impossible to predict how much you will sell since you cannot control the economy or how people spend their money. But you have to start with a goal. There are many great books, websites and blogs about this so start by investing time in working out what you are trying to achieve. I recommend a few on our website.
Your goals should be SMART -Specific Measurable Achievable Relevant Time bound
It's a good idea to set business and personal goals since the reason for you working from home is often motivated by your personal goals.
Goal Example: It might look like this for a T-shirt business
Make $x per month selling 50 t-shirts through my online shop.
Business plan
Next you need a plan. Here's a free business survey to help you get started. You now have to have a plan for making this goal come to reality. You need to know you're your strengths, weaknesses, risks and opportunities are. You need to plan for marketing and taxes. You need to plan for production time and delivery. Once you have done this planning your will know if your goal is realistic and achievable.
Invest time in yourself every day to become an efficient entrepreneur.
Kerri Bainbridge
Anywhere Team New Zealand
Coming up in my next blog find out how to manage the distractions of working from home.