Surveys
Today I completed a survey basically it was asking about business confidence and needs.
It was a bit like doing the recent census it was all about my needs. Now don't get me wrong I like assistance. However, the objectives of the survey don't generate the macro drivers in a local economy such as tourist numbers, value-added dairy produce, mining, fishing, and forestry. It does not help me develop servicing internal demand for my services.
The Minister in Charge of the West Coast Eugenie Sage prefers the company of other than human beings so as a result of that is adverse to Mining and sustainable native forestry. As mining applications grind to a halt and those existing are enveloped in red tape the Coast needs to develop other strategies.
Our local milk company is expanding but alas it is processing off the coast more and more and while that increase the payout for farmers, does like for additional jobs.
While the accommodation sector talks of new hotels it has no new projects currently, being undertaken. While Greymouth will have a new Hospital, there is little other major construction.
The star in the crown as far as Tourism is the Trans Alpine a rail service that delivers 300 tourists a day.
Another gem is the tour buses that stop in Greymouth each night, as well as the brief stop by Stray and Kiwi experience. Those buses number up to 15 buses a day averaging another 300 tourists. Self-driving campervans and rental cars make an overwhelming majority of visitors with 400 to 500 movements thru Greymouth a day.
I asked a Contiki driver one day why they did not stop in Greymouth. He replied if you had something for the tourists to do they would come. Currently we have Shantytown and this is on the stopping point for some of the buses, however, the attractions do not appeal to the 18-35-year-old market.
Some would say Greymouth has plenty of cafes and restaurants, perhaps so, however they need to be within a short walking distance of railway station or easy parking.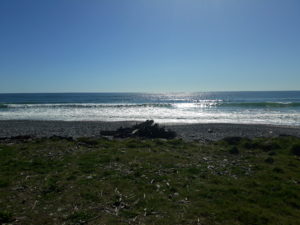 In addition, Air links are woefully inadequate on the West Coast, you cannot go to Auckland and back in a day for meetings unless you are prepared to drive 6 hours in total before and after the trip! Tourists are not currently being supported by air travel.
So what do you do, to drive more money from Tourism? You give them an experience that they will take home, you make that human connection, you give them something to spend there time here!
A start with that would be to focus on service to Tourists that stands out, i.e. going that extra mile. Accommodation cafes restaurants service stations supermarkets need to be fully on board with going that extra mile. Only then we will increase the numbers spending more time here in Greymouth. Then attractions, new capital investment in accommodation and more cafes and restaurants will become more viable.
Andrew
One Half of Anywhere Business Network